Advertising
& the Willits Weekly difference
Interested in advertising or have questions?
Email us!
or call us at
707-972-7047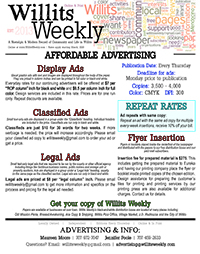 Our rates are affordable and reasonable: Full pages in full color are $1,200 and our ads range downward to a black-and-white business card for $30. We have a flat rate of $9.50 per column inch in color, and $7 in black and white. Classified Ads are just $10 for 30 words for two weeks and Legal Ads are priced at $8 per column inch.
All of our print advertising becomes online advertising, too - for one price:
Our newspapers are uploaded online just as they appear in print, so all print ads are posted online, too. We don't charge again to get your ads online. Check out how they look here:
www.WillitsWeekly.com
- just click on the front page of the edition and let it load.
We're all about hyperlocal and custom content: All of our stories are generated by us - we don't rely on online-generated filler or reprint mass quantities of editorial content from anyone else. We focus on covering the Third District (Willits, Laytonville and Covelo) for features and news stories. This ensures content people want to read about - stories about people they know and things they care about. We include tons of colorful photos, presented in a pleasing and dynamic layout. We are very proud of our accuracy, credibility, neutrality, and professionalism in reporting.
Our printer is incredible: Our independent press, Western Web, is located near Eureka. They print our papers and do an incredible job with registration, color accuracy and brightness. We frequently get comments on how nice our editions look. We email our files to the printer Wednesday evening and have the papers on the street between 6 and 9 am on Thursday mornings.
Our papers are widely read: We print 3,500 copies each week, and consistently have very few returns. We know that many copies are read by multiple people, too, so the eyes-on-pages count is even higher than our print count. We've also never printed less than a 12-page edition and regularly have been printing 16- and 20-page papers - some with two and three sections!
Seven days of advertising for one price: Since Willits Weekly comes out once per week, ads placed in our papers all have a seven-day shelf life. Twice-weekly and daily newspapers are only seen for the day or days that they are physically available - so dividing the cost of ads by our seven days of visibility makes an even better deal and gives your ads an even better chance to be seen.
We're everywhere: In addition to our 20-plus distribution boxes in Willits, we leave editions at dozens of local businesses in Willits, Laytonville, Covelo and Ukiah. We have around 300 paid subscribers who choose to have their paper mailed to them each week to ensure they get a copy before they're gone!
We want people to read our paper: We are a free paper. We don't charge at our boxes or at local businesses, so everyone can easily grab an edition to read, which increases readership for your ads.
Additional sections: In 2016, we started producing a once-monthly Real Estate section with stories, ads, and other information about real estate in Willits and the surrounding area. Willits Weekly has also helped Willits High School re-start their school newspaper, The Wolverine, which published once per quarter in 2016/2017 and once per trimester in 2017/2018. We also have started the Ukiah Community Quarterly with four editions coming out in 2018 featuring stories, ads and information about our neighbors to the south.
We're legal: In November of 2016, we received our adjudication at the Mendocino County Courthouse allowing us to offer publication of legal, public and fictitious business name notices in our pages.
We're ready for what's next: Willits Weekly continues to enjoy support from the community, our readers and local advertisers. Willits Weekly is locally owned, not a part of a newspaper chain. We've been on an upward trajectory ever since our first issue in May 2013. We look forward to continuing to become THE local newspaper.
Ad Rate Sheet
Interested in advertising or have questions?
Email us!
or call us at
707-972-7047